Communications
James Fiddler Memorial Radio Station
Wendomowin Communications Society
P.O. Box 249
Sandy Lake, ON P0V 1V0
Telephone: (807) 774-3191
Toll-Free: 1-888-808-8258
Fax: (807) 774-1040
Contact
Espit Crowe, Radio Announcer
Lucas Beardy, Radio Announcer
Dennis Kakegamic, Band Councillor - Radio Station Portfolio
Board Members
The current board consists of five community members and an elder appointed by Sandy Lake Chief and Council for a two-year term from 2013-2015.

The Board of Directors serves as a liaison for the community as a whole, providing direction to radio station while working cooperatively with the Chief and Council.
Kyle Goodwin - R.C.
Evangeline Meekis - OSM/GP
Lisa Meekis - Centre
Ken Goodwin Jr. - River
Vacant - Airport/Big Rock
Elder Ken M. Meekis
About
Sandy Lake first took to the airwaves in the 1970's borrowing air-time from CBC Radio out of Thunder Bay. 101.1 FM began in a tiny building near the nursing station, where the fuel tanks now sit at Sandy Seaplane.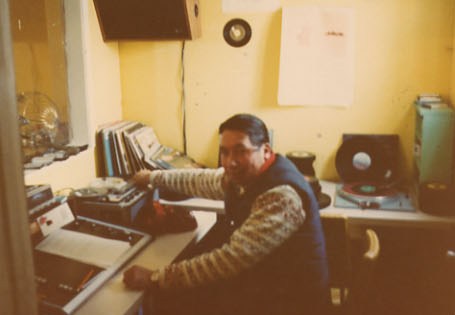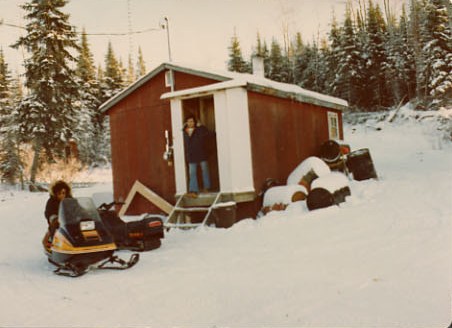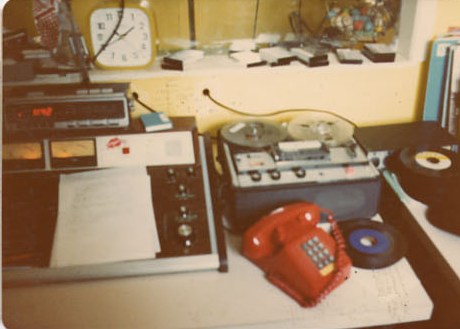 In 1977, CBC Radio Thunder Bay broadcast the first all-native language radio program hosted and produced by Ennis Fiddler of Sandy Lake. Known on the air as "Weengwan", Fiddler recorded the weekly radio program "Indian Faces" out of his home in Sandy Lake, sending out his recorded cassette tapes for broadcast to CBC Radio in Thunder Bay. Weengwan was heard all over the north every Saturday evening. Click here to view a Wawatay news article from 1977 featuring "Weengwan".

Since 2001, the radio station has been located in "downtown" Sandy Lake - as dubbed by local radio personality "Cuzzin" referring to the area occupied by the band office and Northern Store.

The James Fiddler Memorial Radio Station (named after community member who volunteered at the radio station for many years in the 60's to 70's) is operated by the Wendomowin Communications Society under the direction of the Board of Directors. Click here to view a Wawatay news article from 1977 featuring James Fiddler.

In the winter of 2008, community elder Louie Fiddler initiated a community-wide fundraising drive for the radio station when he donated $500 towards the purchase of a transmitter and brand new radio equipment. A new transmitter would allow Sandy Lake to broadcast on it's own frequency. A couple of months later, Louie passed away unexpectedly. His efforts and challenge to the community was not forgotten as Sandy Lake managed to raise more than $20,000 during a 26km walkathon to the Sandpit and back. Click here to view some photos of the walkathon that raised more than $8,000 in just one day for the new radio station equipment.

In August 2008, with a new transmitter and new equipment, the radio station began broadcasting on the new 93.5FM. After more than 30 years of sharing a frequency with CBC, Sandy Lake now has it's own broadcast station, allowing complete control of air-time and radio programming. This also means Wawatay Radio can be broadcast on 93.5FM at any time, something the community has wanted for some time.

CBC Radio is still available in Sandy Lake on 101.1FM.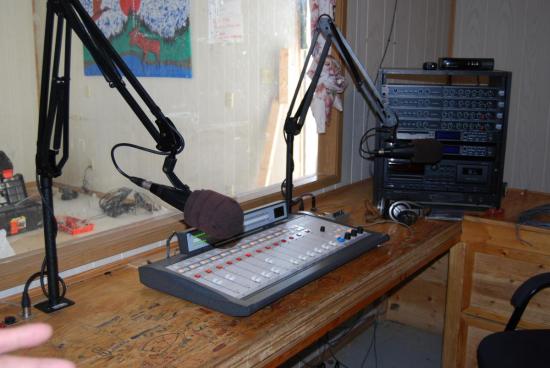 New radio equipment in 2008.