Canoe Paddlers Stop in Sandy Lake On Way To Fort Severn
Posted on: 1 September 2016
By:

admin
On Saturday evening, hunters from Sandy Lake First Nation spotted two men in a canoe paddling the waters of Ozaagaywaywahning, 25 km northwest of the community. The hunters, who had just shot a moose, stopped to say hello to the paddlers and to share a piece of fresh moose meat. By late Sunday morning the paddlers were docking their canoe along the shores of the Severn River in the community of Sandy Lake. 
Rob Hart and Frank Wolf, both from British Columbia, are more than half way through a canoe expedition that started 17 days ago in Pine Dock, Manitoba on Lake Winnipeg. They have made stops in the communities of Blood Vein, Little Grand Rapids, Deer Lake and now Sandy Lake. Over the next two weeks, Rob and Frank will paddle the Severn River and complete their 1,300 km journey in the First Nation community of Fort Severn on the Hudson Bay. They are planning stops in Muskrat Dam and Bearskin Lake along the way.
Rob and Frank arrived in Sandy Lake just in time for an outdoor cookout that the families of the hunters had prepared in celebration of their moose harvest from the night before. Moose soup, moose meat and fried bannock was plentiful and the families were more than happy to share with Rob and Frank whose main diet on their canoe trip consists of dried food. After a couple of hours of visiting and eating, the pair continued on their journey with a bag of fried bannock they plan on enjoying with peanut butter and honey. 
Frank is a seasoned outdoor adventurer and filmmaker who has turned several of his expeditions into award-winning documentary films including Borealis, Mammalian and On The Line. Frank started his outdoor adventures in 1995 when he canoed 8,000 km from Saint John, New Brunswick to Vancouver, British Columbia over 171 days. More about Frank's work can be found on his website at www.frank-wolf.net.
Once they arrive in Fort Severn, the duo will be selling their canoe and flying to Thunder Bay. 
Frank and Rob will be writing about their experience for Sagatay Magazine, Wasaya's in-flight magazine.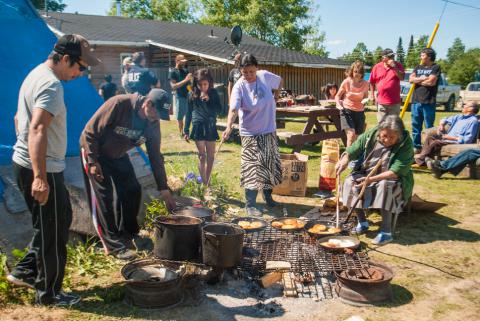 Canoe Paddlers Stop in Sandy Lake On Way To Fort Severn