Joseph Meekis' Gravesite Found After 57 Years
Posted on: 6 September 2016
By:

admin
Saturday, August 23, 2014
Memorial feasts are a common practice in Sandy Lake First Nation. The customary tradition commemorates the passing of a loved one by giving thanks through preparing and sharing food with the entire community every year on the anniversary of the loved ones passing.

This year on September 5th, Katie Fiddler and Betsy Linklater will be having the very first memorial feast for their father Joseph Meekis who passed away more than 50 years ago. Until a few weeks ago, the sisters didn't know when their father passed away or where he was even buried. It is only recently that this was discovered.

Joseph Meekis was sent to the Fort William Sanatorium, in what is now Thunder Bay, for tuberculosis (TB) around 1950 and never returned home to Sandy Lake. Katie was a young 8-year old girl at the time. No one in Joseph's family knows what happened to him after that, only getting word that he passed sometime in the late summer or early fall in 1957 or 1958. This would leave Katie to be raised by her Uncle Monias Fiddler when she wasn't in residential school. Her youngest sister Betsy was adopted and raised by another family in Sandy Lake. Their mother had died years earlier in Red Lake after suffering a miscarriage on the trapline.

It's been a lifetime of wondering for Katie and her family. There was no funeral, no memorial feasts and no closure. Katie's son Roderick Fiddler recalls how anytime they would drive by the cemetery on Oliver Road in Thunder Bay, his mom would say, "That's where my dad is," as it was the only cemetery she could see in Thunder Bay.

So when Rod read the story about a Keewaywin family finding where their grandfather Elijah Kakegamic was buried after he didn't return from the Fort William Sanatorium, he was motivated to find his grandfather. After doing a Google search, Rod sent emails to Thunder Bay Archives, Ontario Archives and Thunder Bay Public Library explaining his search and asking for assistance. The very next day, Rod received a response from Thunder Bay Public Library with the date of Joseph Meekis' death and name of cemetery where he was buried. "I was really surprised I got it that quick," says Rod of the information. He waited for his brother David to join him in Thunder Bay before visiting the gravesite at Mountain View Cemetery on Broadway Avenue.

When they got there, the cemetery groundskeeper directed them to the plot where their grandfather lay. The groundskeeper then marked it with a stake with the last name Meekis on it. The brothers later returned with another marker with his full name Joseph Meekis on it. It was also at the cemetery that Rod and David discovered Blake Funeral Home took care of their grandfather's funeral and interment arrangements. A visit to the funeral home showed records confirming Joseph Meekis died of tuberculosis on September 5, 1957 at the age of 52 years while at the Fort William Sanatorium.

Katie was at a family get together in Sandy Lake when David told her the news. "I was so glad when they told me they found the gravesite," says Katie. It was decided that the family would leave Joseph in his resting place and not pursue the option of bringing him home to Sandy Lake. "I think it's better to leave it like that," Katie says. "As long as we know where to look…I'm glad I know where it is."

Katie and Betsy, the only two surviving siblings, are planning a trip to Thunder Bay at the end of September when they will finally get to visit their father's gravesite for the first time since his death 57 years ago. The family is also planning a headstone to properly mark his final resting place.

A lot of questions remain and they are still looking for information about their grandfather but Rod says they are taking it in steps. "Maybe that'll be good enough for all of us," he says of finding the gravesite. "But I can't help but ask more questions. Why was it like this?"

It is believed Joseph Meekis was in the Fort William Sanatorium for several years before he died. "People who come out to the hospital these days get lonely after a week; they have people come visit them and they can call home," says Rod. He wonders what his grandfather went through in the hospital by himself for so long. "He probably died of loneliness, too."

TB was a widespread epidemic in First Nation communities and Indian Residential Schools in Canada throughout the late 1800's to mid-1900's that forced many to leave their homes, families and communities. It killed thousands of First Nation adults and children.

It is important to David and Rod that they share their story for other families who may be seeking closure for loved ones who never returned home. In the section of the cemetery where Joseph Meekis is buried, only 13 of 188 gravesites are marked which leads them to believe there are a lot of families out there looking for answers as well. According to the cemetery groundskeeper, most of the unmarked sites belong to people who were destitute or had no next of kin listed in their records.

The Fort William Sanatorium opened in 1935 and served as a tuberculosis hospital then later as a treatment centre for mental disabilities. It closed in 1994 and the building was demolished in 1999. The Department of Indian Affairs approved and paid for the treatment of First Nation patients at the Fort William Sanatorium.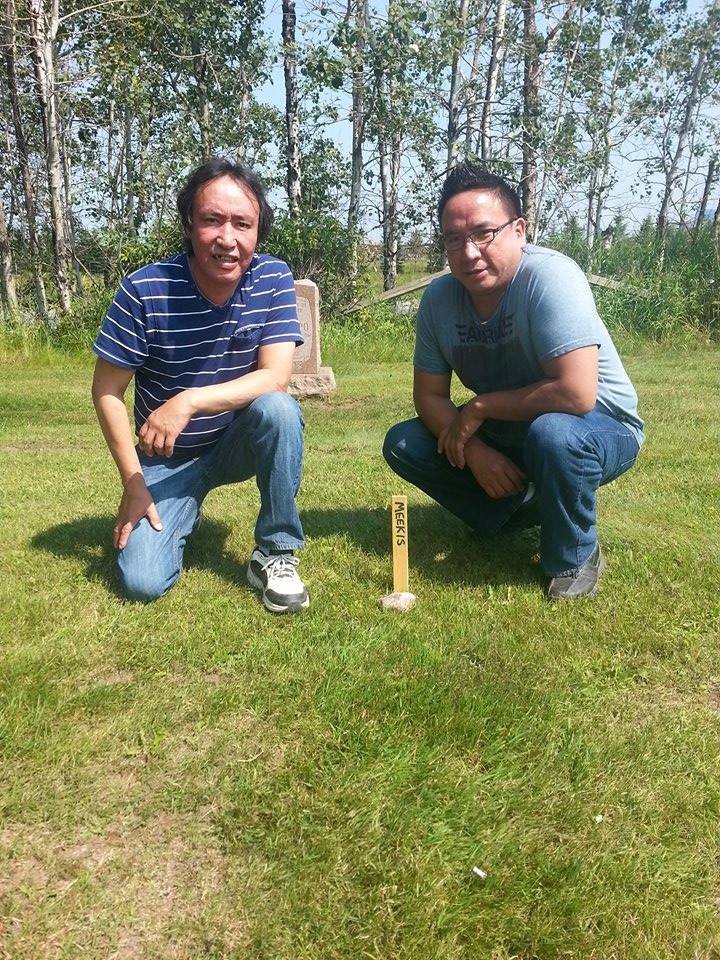 David B. and Roderick Fiddler visit their grandfather's gravesite earlier this month for the first time since he died 57 years ago.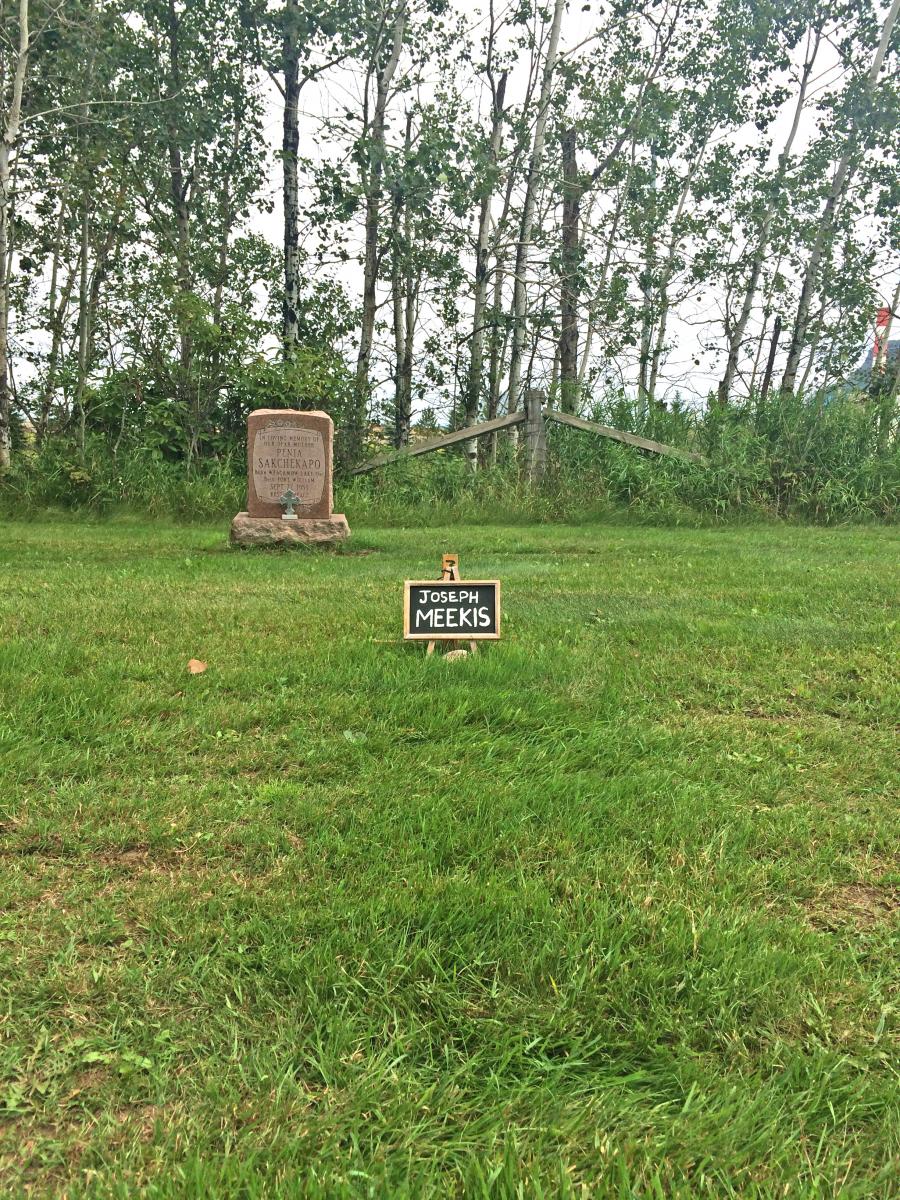 The marker on Joseph Meekis' gravesite now. It will be replaced with a headstone to properly commemorate his final resting place.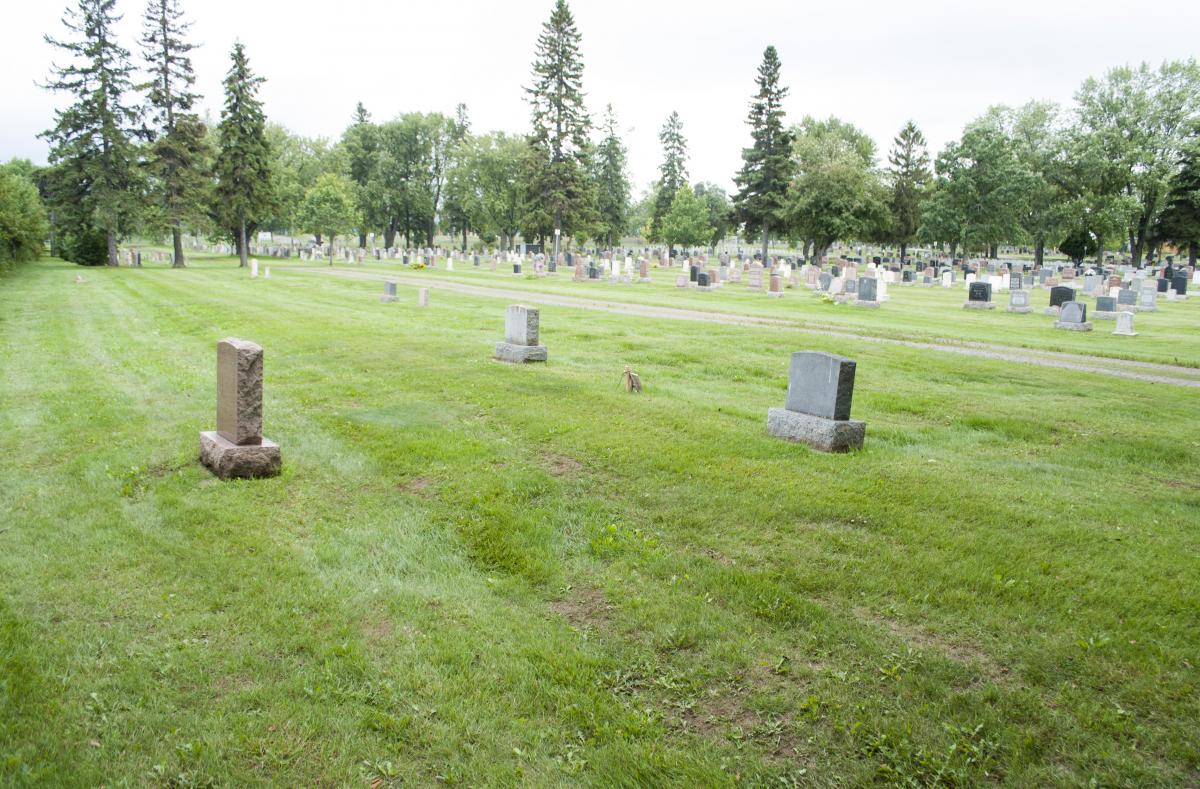 The section of the cemetery where Joseph Meekis is buried is full of unmarked gravesites.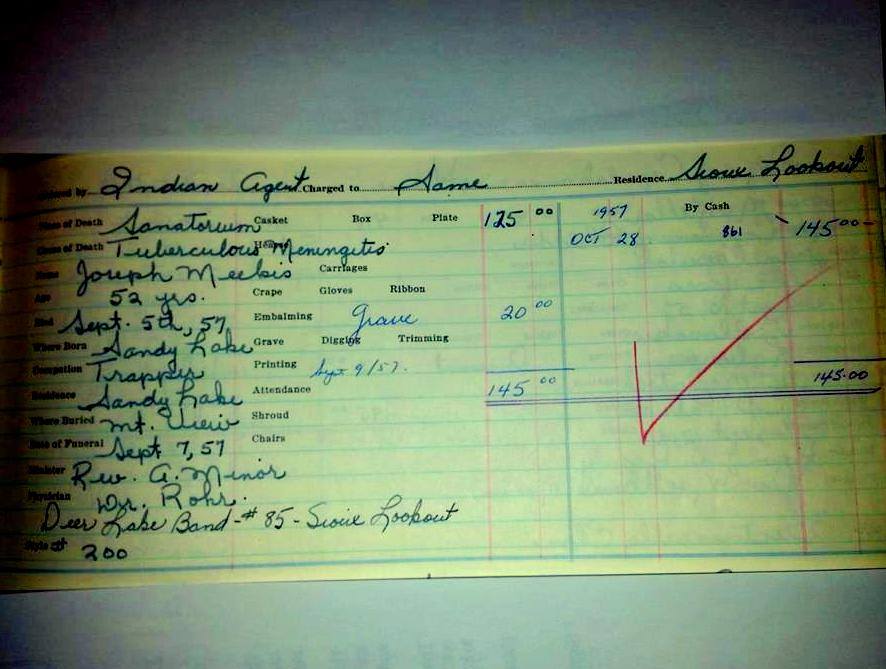 Records for Joseph Meekis' death from Blake Funeral Home.