Sandy Lake takes positive steps to address its dog population
Posted on: 6 September 2016
By:

admin
Tuesday, September 8, 2015
For five straight days, Sandy Lake First Nation community members were lined up at the local youth center with their dogs in one hand and paperwork in the other to get their pets spayed, neutered and vaccinated.
It is the first time the community – a fly-in location in northwestern Ontario -- has had veterinary services and the initiative received an overwhelming response.
A whopping 238 dogs were vetted including 197 spay and neuters. The clinic was busy and running non-stop each day between 8 a.m. and 10 p.m.
The initiative, spearheaded by Sandy Lake band member Ella Linklater, was the result of months of working closely with rescue group volunteer Darlene Vezina from Schreiber, Ont.
"This clinic surpassed all my dreams for Sandy Lake," Vezina said. "Of all the places (the vet team) has been and are going to, the people and the response was overwhelming."
Sandy Lake Band Councillor John McKay said Linklater began approaching chief and council a year ago with the idea of a spay and neuter clinic and there was little interest at first but with Linklater's persistence, they soon changed their mind. 
Linklater said that after a couple of years of talking about it, the project really started to come together this past year and part of that involved informing council of the importance of getting the dog population under control with a spay and neuter program. 
"They listened," she said. "It's the first time for everybody. It's very new to us."
Vet care faces many obstacles
McKay said the community has seen an increase in dogs packing together and fighting amongst themselves, which is cause for concern, especially for children. In addition to the health risks related to a population of unvaccinated dogs, McKay says council has no plan to address the issue because there will always be strays.
"It's become more of a crisis management issue," he said. 
This is why initiatives like this are essential in keeping the population healthy, said veterinarian Dr. Karen Ward.
Ward, one of five veterinarians with the Toronto Humane Society who came to Sandy Lake to help run the clinic, said the not-for-profit organization has been interested in outreach work in the north for quite some time.
"We're basically here to try to improve the health and well-being of the animals and then by extension the community by trying to make it safer for everybody because I understand that sometimes there's real issues when you have large groups of dogs and if there are large groups of neutered dogs everyone is going to be safer," she said.
In fact, Ward said the Toronto Humane Society temporarily shut down their own
spay and neuter services to move the team of volunteers to Sandy Lake. For Ward, the experience was a learning opportunity as it was her first time in a remote, northern community.
In communities like Sandy Lake that are fly-in or drivable only during the short winter road season, controlling the dog population isn't easy because of the limited access to veterinary services.
"Logistically challenging and incredibly expensive," she said of her first impressions. "Even things like going to the Northern (grocery) store and seeing what it's like for somebody here to go shopping is stunning to us and trying to understand all the different obstacles that are in place. It's a lot more complex I think than we really have a superficial understanding of so it's really interesting to us to see how everybody lives here."
Sandy Lake council first to approve clinic for strays
Geordie Anishinabie brought his dog Hudson in to be neutered and vaccinated because he tends to be troublesome and never home. Anishinabie is hoping this will help to calm down his pet of three years who frequently leaves home for days at a time. He says if the dogs aren't vaccinated it's a concern because of the fighting with other dogs over female canines who are in heat. 
Ward explains that the key for public safety when it comes to controlling the dog population is getting the strays spayed and neutered. Part of the clinic's intake and admission process is to inform the pet owners what is involved and to get their signed authorization to administer the services. 
For the stray population, this authorization must come from the community's band council. 
Council told Linklater she could go ahead and round up the stray dogs on the third day of the clinic. Ann Babey, founder of Cat Lake Friends of Animush says it is the first time any community her organization has worked with has given their permission to administer services to the strays. 
"We're pretty excited," Linklater said after receiving the go ahead.
By the afternoon of the fourth day, she and several other local volunteers were rounding up the strays to be brought in for surgery. It was not too hard to identify the strays because Linklater and local Northern Store manager Lisa Roach run a feeding program for dogs milling about without their owners. 
The feeding program is just a fraction of the work Linklater does to help the dog population in Sandy Lake. When she returned to the community a year ago, band member Melany Meekis had already started the work of rescuing dogs in need with Vezina and another volunteer Chrissy Wade, who was working in the community at the time in the dental office. Linklater says she started helping out Meekis because of her love for dogs. She had also lost a dog to sickness and although she is not ready to have another of her own just yet, Linklater said her efforts are worth it.
"At least I can save these other ones who have a chance," she said with a smile.
Dog culls only resource
Until now, the most viable solution to controlling the overpopulation and reducing the risk of injury to community members from aggressive packs of dogs in heat has traditionally been achieved through a dog shoot or what is commonly known as a dog cull. 
Babey says although the practice gets bad press it is the only way and the most humane thing to do.
"People who haven't experienced the north don't understand that and don't understand it's a kind thing. It's not an easy thing to do a shoot, which is the most common thing. It's another loss, another somebody, something to grieve about because it's a hard life up here," Babey said, her voice cracking with emotion.
"In the north, people generally treat their dogs very well and they are well fed, well loved but there's just too many of them. It's expensive to nourish the children let alone to feed your dog well. The only resource is to do a cull."
Because of the hardships, Cat Lake Friends of Animush began connecting veterinary services to the remote north in 2004. This was in response to a friend's distress over another litter of puppies her dog was expecting and the burden of added responsibility. 
Role of dogs changed over time
McKay said the notion of dog ownership in the community has changed over the years, pointing out that years ago, dogs played a different role.
"They were a source of transportation and they provided companionship," he said.
McKay said that changed when the community settled in its present location.
"As parents, we want to give pets to our kids but there's no plan (that keeps in mind) these dogs are going to grow up. They're cute little puppies but once they grow up there's no sense of attachment as much or purpose for the dogs. They roam freely now."
Babey said that's not necessarily a bad thing. 
"I see far better behaved dogs here in the north. There's a reason why these dogs are so good and personally I think it's because they are free roaming and socialized."
Collaboration key
Managing a population of free-roaming dogs can be challenging when it comes to identifying owners. In Sandy Lake, Linklater and Vezina have established a system using social media that for the most part, seems to work. Utilizing local community Facebook pages and her own personal Facebook page, Linklater will post photos of dogs whose owners are not known for a period of 24-48 hours. Vezina said it is their policy to ensure no dog goes into rescue without proper authorization from the pet owner.
Vezina said the initiative has been a collaborative approach and the best solutions come from collaborating and community involvement as opposed to coming in and telling the community how things should be done.
The Sandy Lake initiative came about after Meekis, Linklater and Vezina reached out to Cat Lake Friends of Animush. Cat Lake then reached out to the Toronto Humane Society. The costs of the spay and neuter clinic have been donated through collective efforts of fundraising, community contributions, donations and sponsorships.
Ward too said it's important to establish community contacts and build relationships with someone who is knowledgeable about the area to ensure the services work best for the needs of the local residents. She said any public awareness campaigns from rescue groups should be done with context so that the community is portrayed fairly.
"Sometimes where I see people advertising around this and they'll say, 'Prevent the dog cull' or a really negative way in which I don't think educates the public, I don't think is the way to build meaningful relationships and I don't think it really helps anything in the long run and I find very offensive, personally," she said.
As for council, McKay said the benefits of having the spay and neuter clinic in the community had clear benefits and that band members have proven themselves to be responsible pet owners. And while collaboration within the community and outside the community was key to the clinic's success, McKay paid special tribute to Linklater for her hard work and diligence in making a difference.
"The reason why this is happening is because of Ella, if she wasn't there this would have never happened."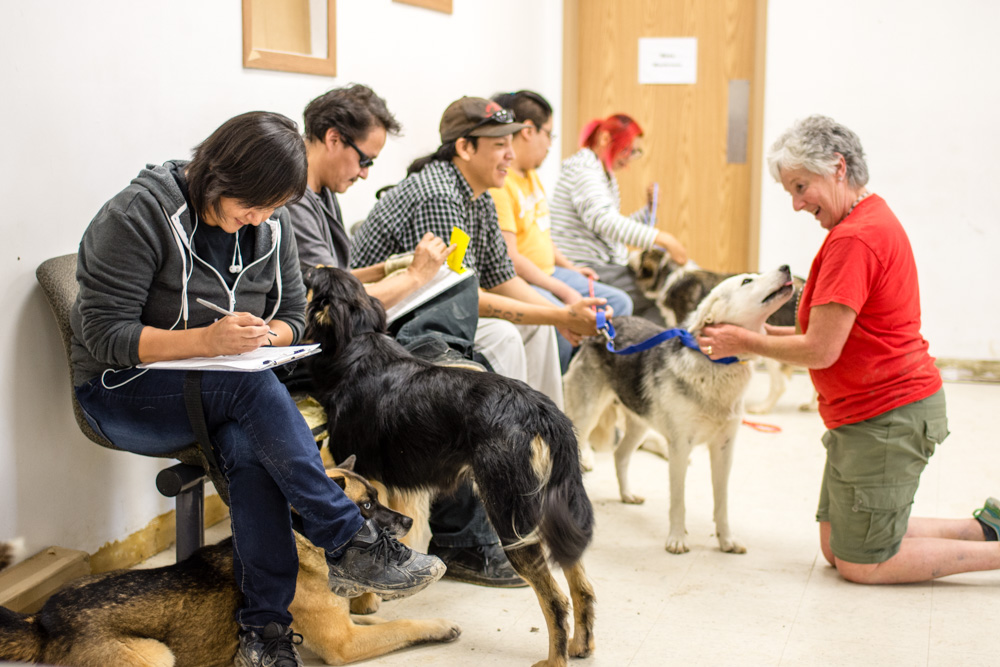 Community members fill out the paperwork for their dogs to get spayed, neutered and vaccinated.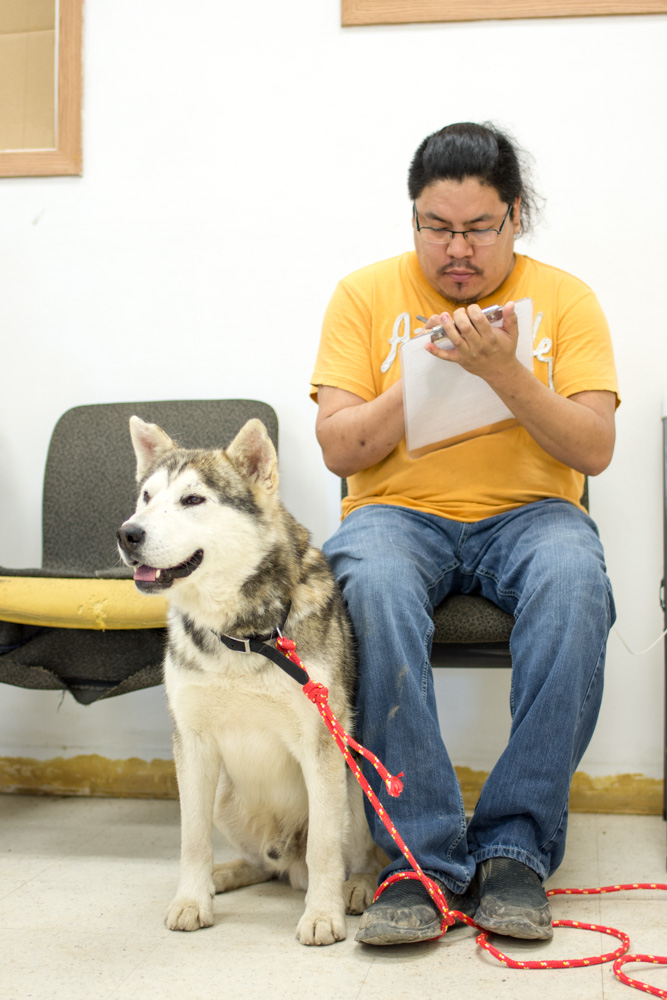 Community member Geordie Anishinabie waits to get his dog Hudson neutered in hopes he will stay home and not get into fights with other dogs.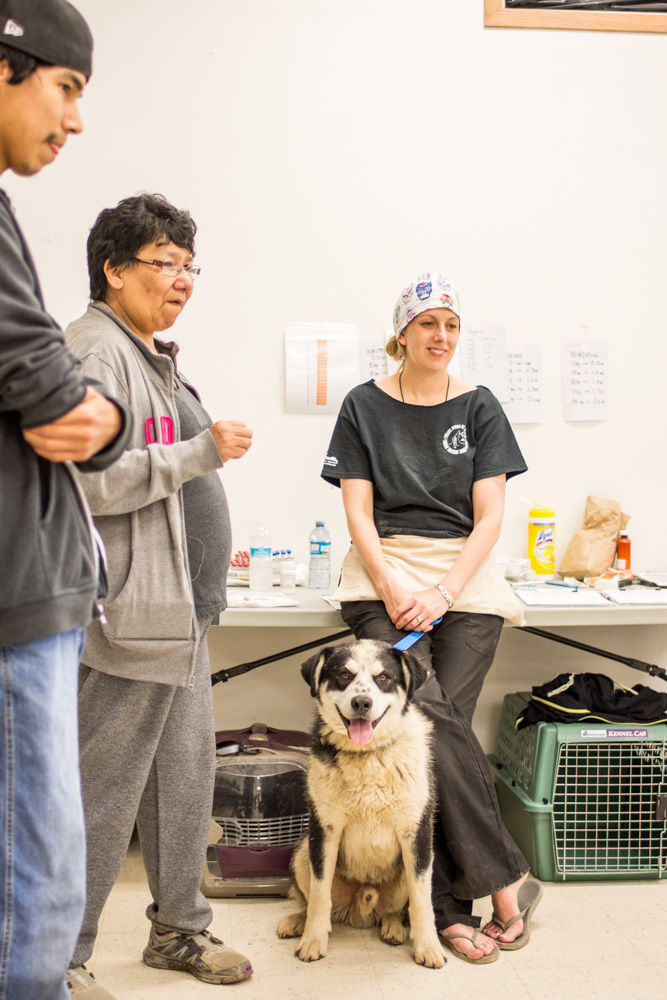 The vet team ensured community members were aware of the services their pets would be receiving and the benefits of it.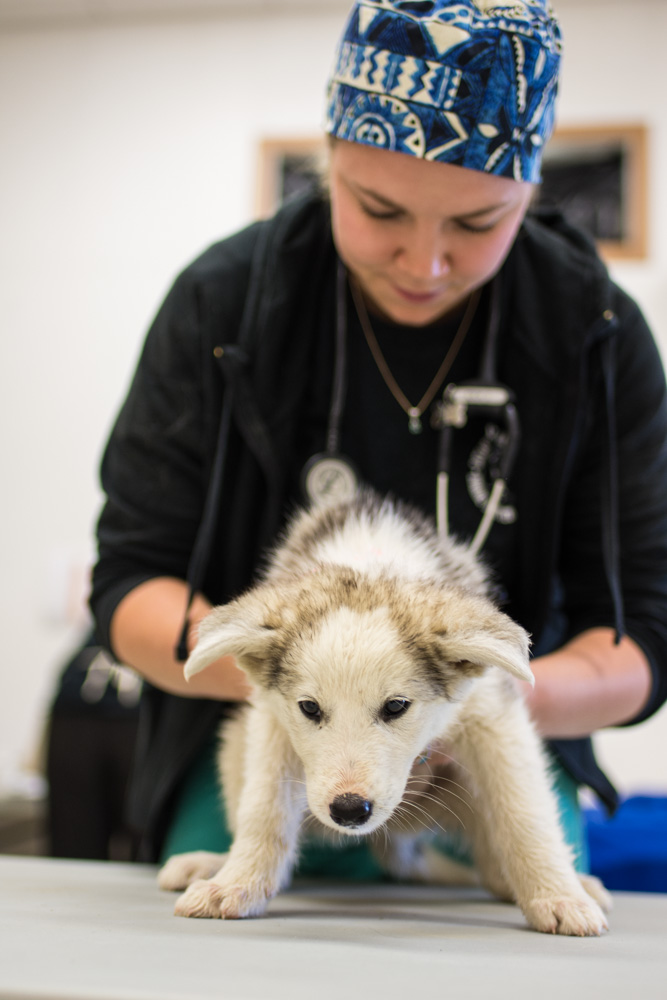 Dr. Danielle Boes, one of the vet volunteers examines a puppy.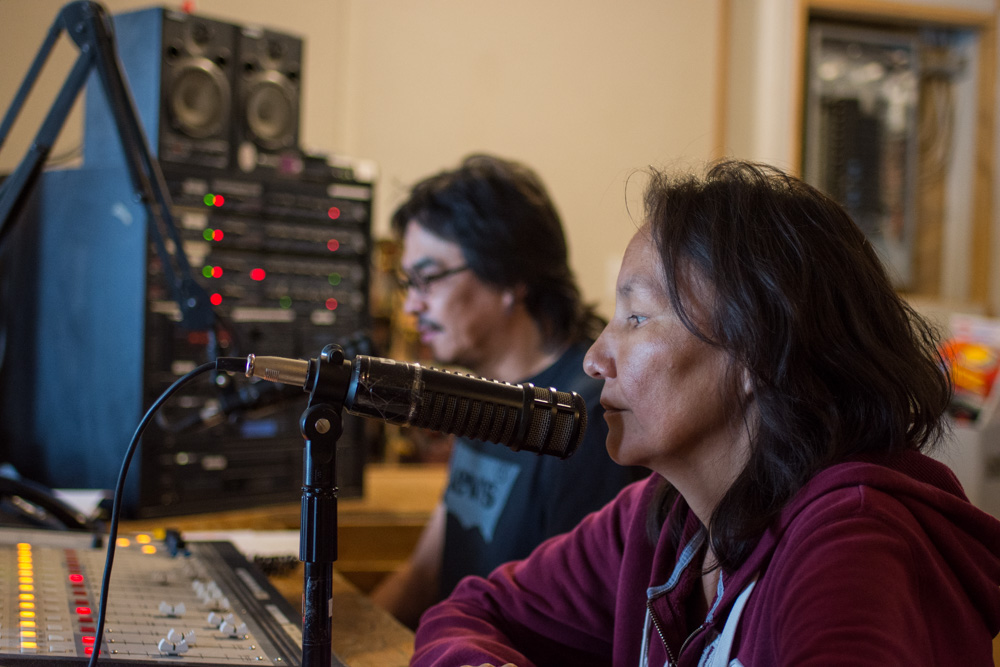 Band councillor John McKay and community volunteer Ella Linklater inform the community over the local radio of the services of the spay and neuter clinic.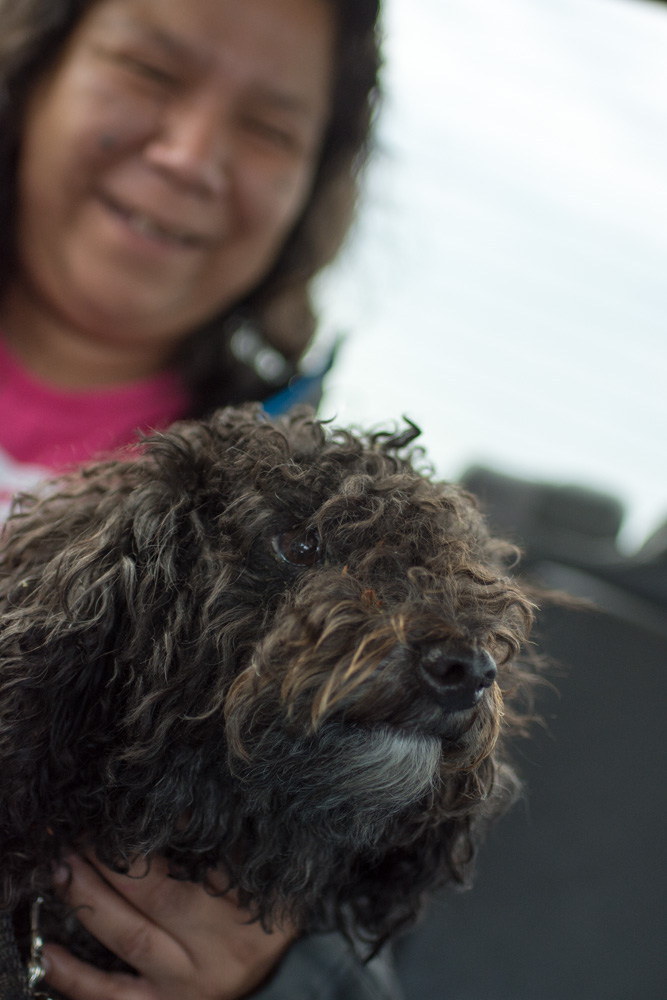 Community member Shannon King brings her dog Maggie in for vet services.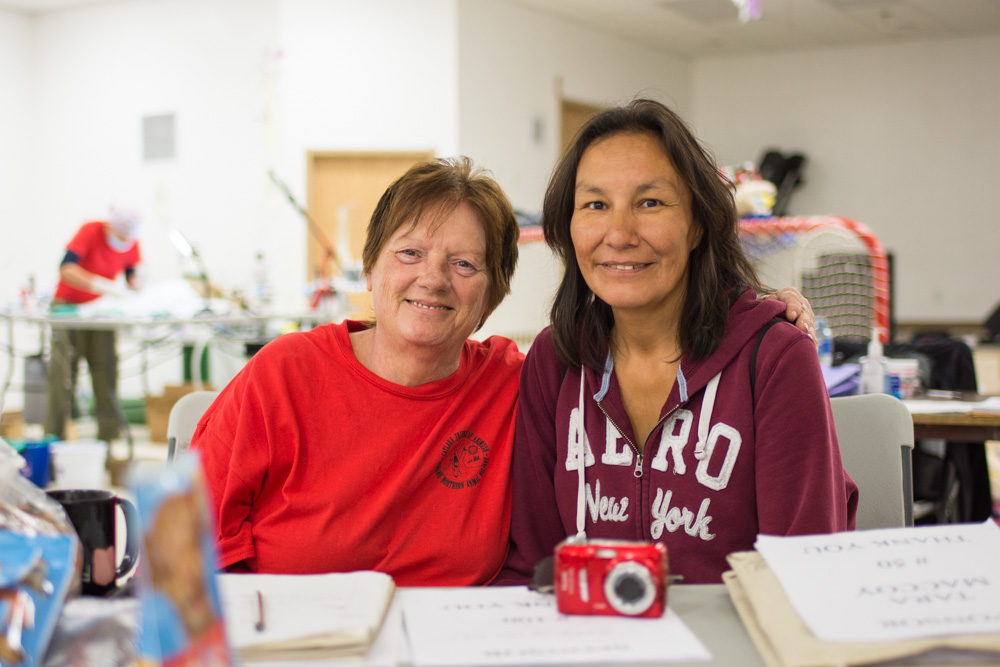 Darlene Vezina of Save The Animals Sandy Lake and Ella have worked closely to bring in the first ever spay and neuter clinic to Sandy Lake.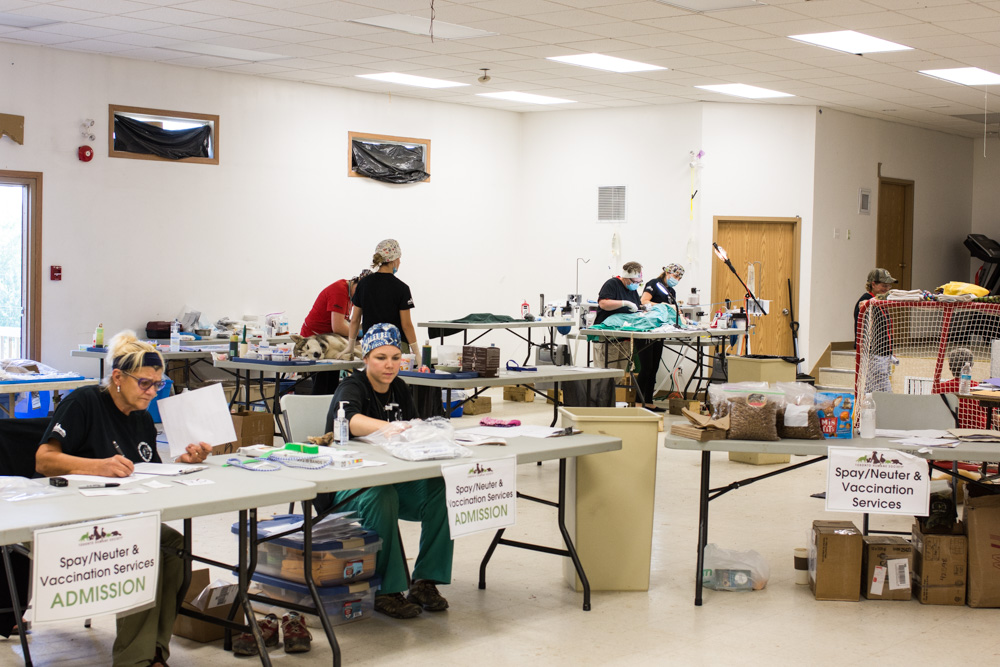 The temporary spay and neuter clinic set up at the local youth center.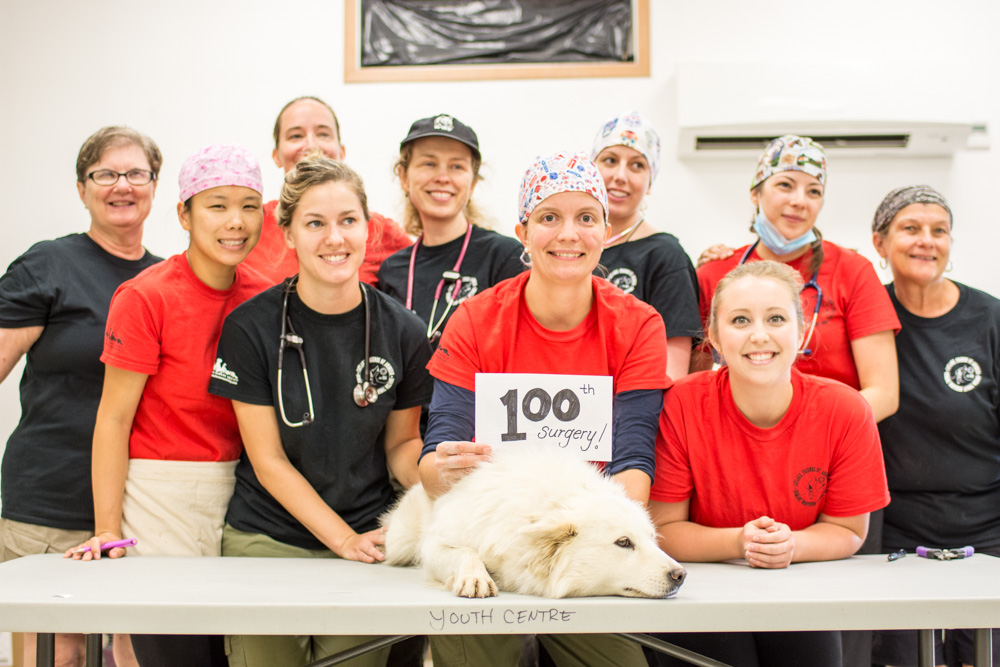 The vet team celebrates the 100th surgery on day three of the five-day clinic. A total of 197 surgeries were performed.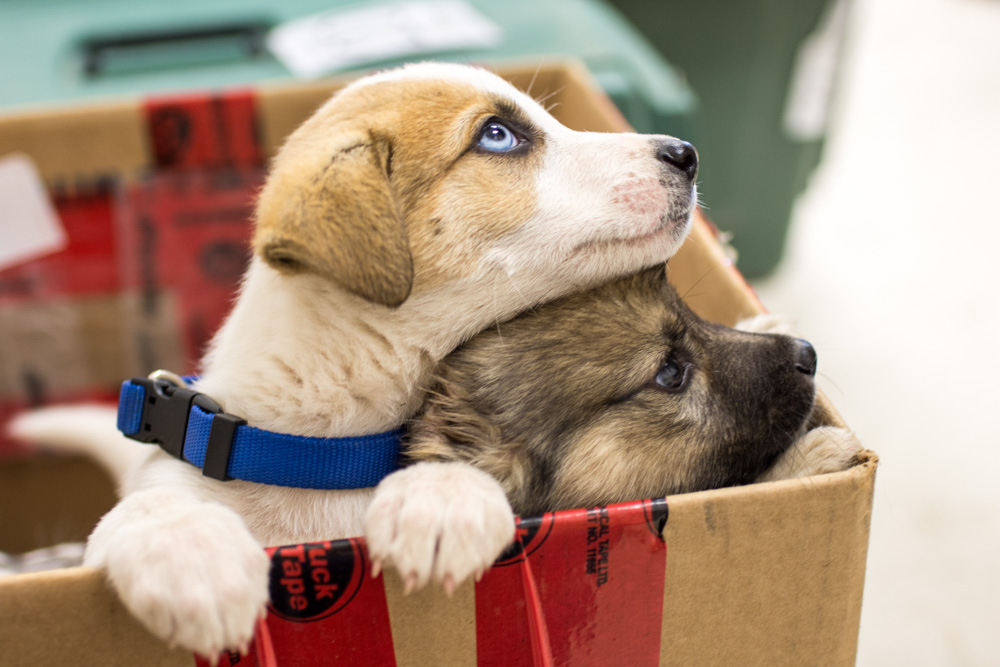 "Puppies are always the adorable attraction," says Dr. Danielle Boes, one of the volunteer veterinary doctors.
Puppies are always the adorable attraction," says Dr. Danielle Boes, one of the volunteer veterinary doctors.