Sandy Lake gets in on hockey action at Little Bands
Posted on: 10 February 2010
By:

admin
More than 70 eager and excited hockey players made their way to the Little Bands Hockey Tournament in Sioux Lookout yesterday.

Five teams left with coaching staff and chaperones on the winter road to participate in the annual hockey event from February 10 to 14. Games are scheduled at the Sioux Lookout and Eagle Lake arenas.

Wawatay will be broadcasting the games live on radio starting Thursday, February 11th. To see team standings and game schedule, visit the tournament homepage at www.littlebandshockey.myknet.org

All the best to Sandy Lake's young hockey players, we are cheering for you!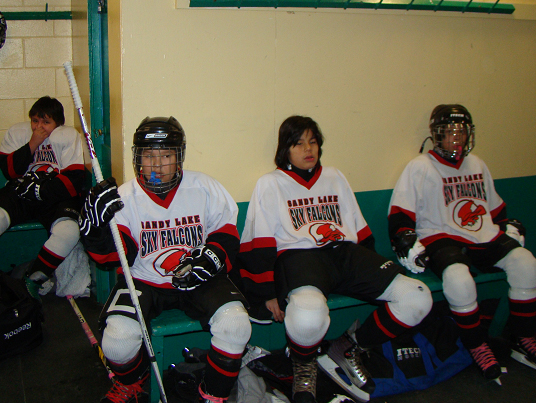 Sandy Lake's Sky Falcons get ready for their first game against Deer Lake this morning at 7:00 a.m.. They tied 6-6.


Novice Division - Ages 4, 5, 6 & 7
Eden Mawakeesic
Matthias Goodman
Phoenix Meekis
Malakai Goodman
Kolton Meekis
Wyette Crow
Rocco Crow
Aiden Kakepetum
Sophie Fiddler
Joshua Rae
Tyson Wren
Niel Crow
Coaches: Jeff Meekis and Gary Manoakeesic

Atom Division - Ages 8, 9 & 10
Everett Meekis
Ryan Meekis
Mervin Meekis
Rayden Rae
Gavyn Fiddler
Darian Crow
Curtis Rae
Matthew Fiddler
Stanley Beardy
Drake Meekis
Brent Meekis
Jeffery Kakegamic
Coaches: Jeff Meekis and Gary Manoakeesic

Sky Falcons
Pee Wee Division - Ages 10, 11 & 12
Brent Meekis
Keeshtin Fiddler
Evan Mawakeesic
Dave Meekis
Gabriel Kakepetum
Dakota Fiddler
Marty King
Andrew Rae
Dawson Crow
Sylvan Fiddler
Jeffery Kakegamic
Ryerlin Kakegamic
Coaches: Greg Mawakeesic, Cyrus Rae, Brandon Goodman and Jackie Rae

Knights
Bantam Division - Ages 13, 14 & 15
Creedence A
Logan Meekis
Taylor Brunton
Jordan Kakegamic
Clarissa Crow
Ishmael Meekis
Brendan Mawakeesic
Breeze Goodwin
Pierce Meekis
Darrell Fiddler
Michael Beardy
Walter Monias
Dillon Rae
Scott Meekis
Preston Meekis
Derek Kakegamic
Randale McPherson
Brandon Kakepetum
Dallas Crow
River Crow
Coaches: Matt Kennedy, Jeremy Audette, Jamie M. Rae and David "Abba" Beardy

Riverhawks
Midget Division - Ages 15, 16 & 17
Todd Crow
Tyrell Fiddler
Bradley Anishinabe
Tre Fiddler
Tyler A
Mitchell Monias
Brandon Mawakeesic
Devin Kakepetum
Gilmour Kakegamic
Janis Monias
BJ Kakegamic
Adam Beardy
Scott Fiddler
Sheldon Kakegamic
Dylan Brunton
Jewelle Kakegamic
Stuart McPherson
Chad Linklater
Styler McKay
Kirk Meekis
Gunther Fiddler
Coaches: Elton Crow, Nash Crow and Alvin Meekis