Sioux Warriors share their hockey skills with Sandy Lake's youth
Posted on: 25 May 2009
By:

admin
It was Rocco Crowe's first time on skates. In a rush to get his six-year old son to the arena, Bernie Crowe mistakenly packed his 13-year old daughters hockey skates.
The size difference in skates didn't deter Rocco from participating in the first day of a hockey camp that was held after Sandy Lake First Nation extended an invitation to the Sioux Warriors.
For three days, more than 100 kids from Sandy Lake were led in on-ice and dry-land hockey drills by three members of the Sioux Warriors hockey team from Queen Elizabeth High School in Sioux Lookout.
"We try to encourage any kid interested in coming", said Kevin Berube, coach of the Sioux Warriors. "First and foremost it's about having fun whether they are a beginner or have been on the ice their whole lives".
The Sioux Warriors traveled to Sandy Lake on April 30th, capping the end of a busy hockey season for Sandy Lake's youth.
Sandy Lake has five hockey teams for kids between the ages of 7 and 17 years. With an indoor arena, ice-time is valuable for the kids who are just learning to skate and for those who are honing their competitive skills.
Berube believes the experience of the Sioux Warriors hockey camp doesn't end when they leave the community.
"Young people are very universal", said Berube. "They make positive connections", he said, referring to the opportunity for Sandy Lake youth to play with the Sioux Warriors. Berube hopes to see some Sandy Lakers try out for high school teams when they attend school outside of the community.
This is the third hockey camp the Sioux Warriors have hosted in a First Nations community. They have previously visited Big Trout and Wapekeka.
Dallas Nebbs, a 3rd year forward; Logan Jung-Ritchie, a 3rd year defenseman; and Austen Hoey, Warriors captain and 4th year player were presented with moccasins on behalf of the community in appreciation for their time spent in the community.
Russell Kakepetum, Sandy Lake band councillor, said he hopes to have the Sioux Warriors back again in the fall for another hockey camp.
Sandy Lake First Nation would like to thank Wasaya Airways for providing air transportation for the Sioux Warriors.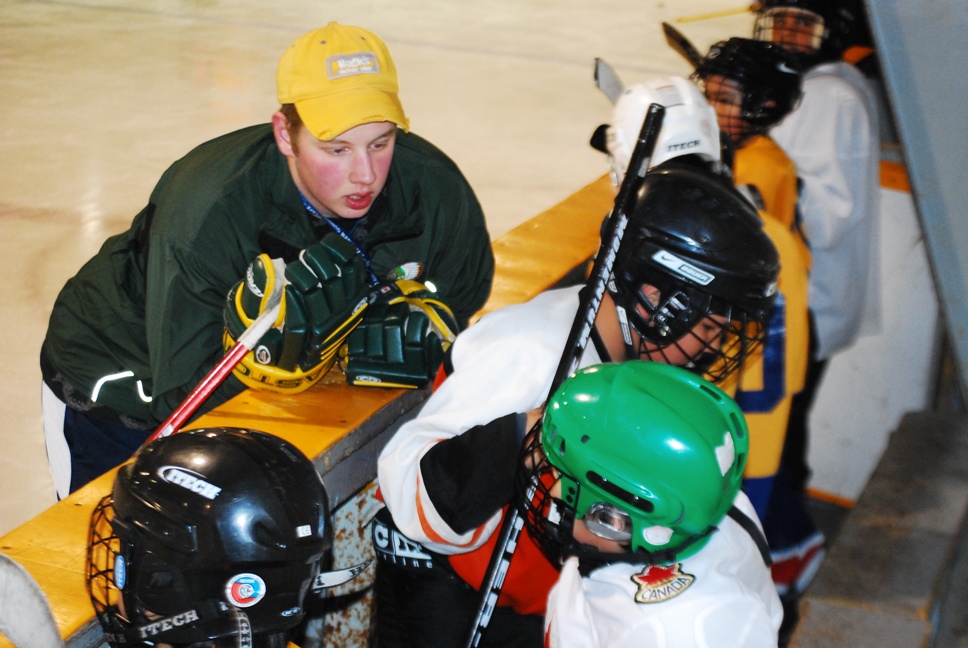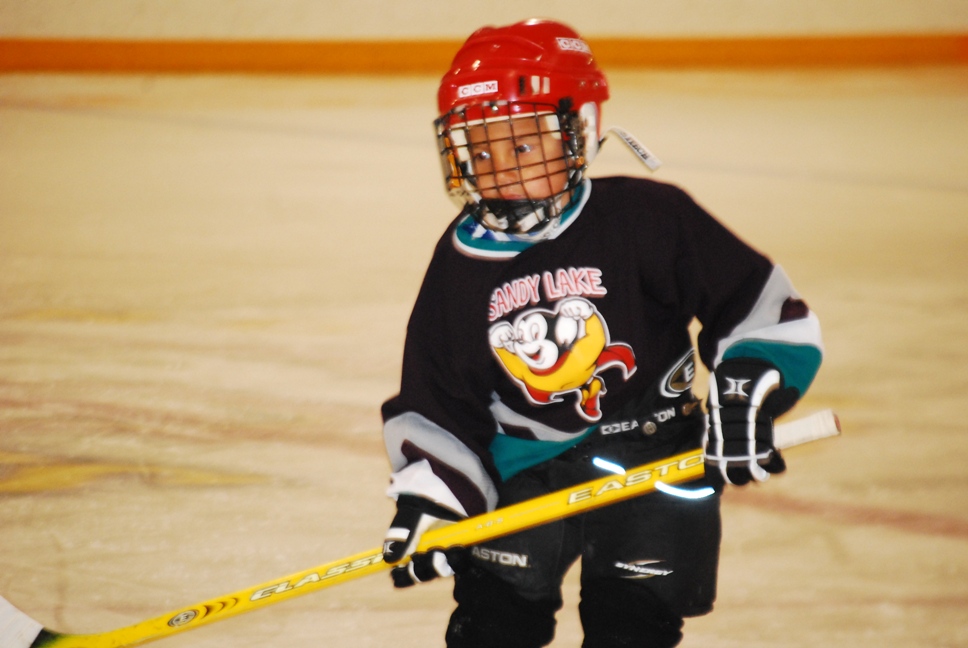 Sioux Warriors captain Austen Hoey checks in with the kids. Children as young as six-years old participated in the hockey camp with the Sioux Warriors.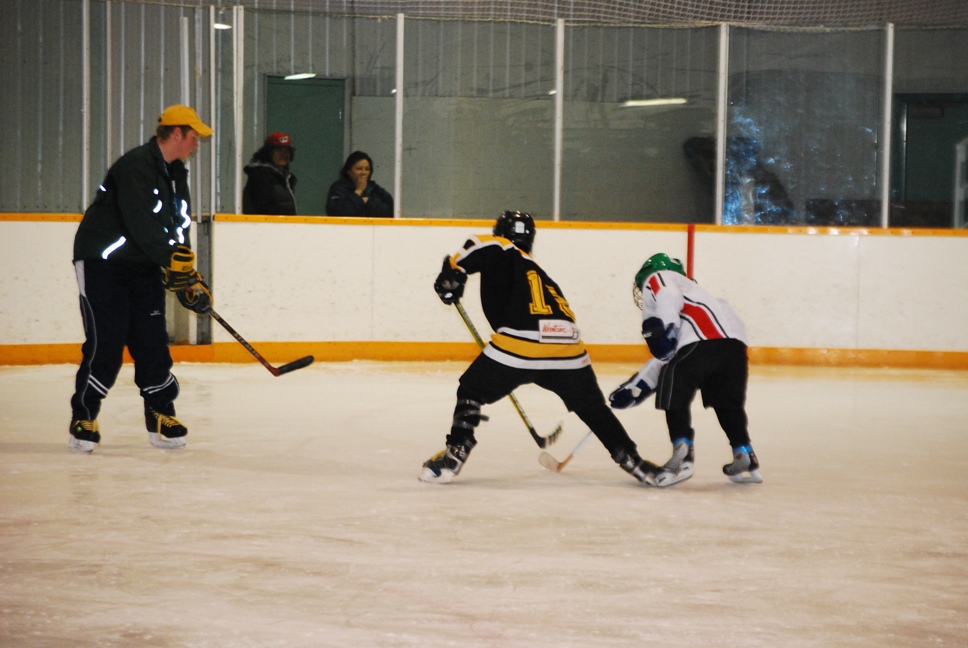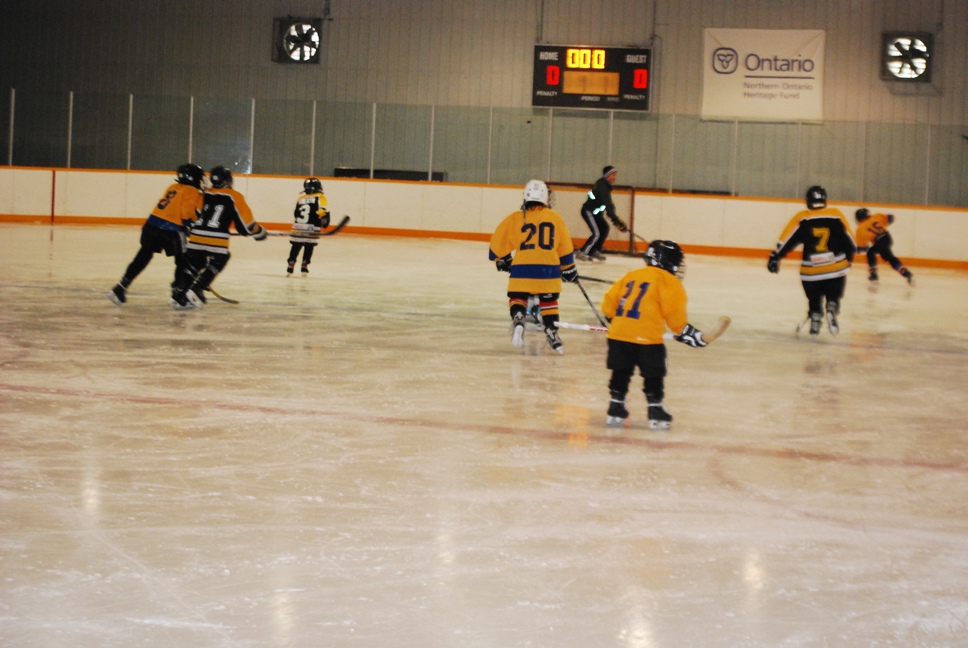 On the last day of the hockey camp, all age groups played a fun scrimmage together.