Students in Toronto to Perform at OLI Performance
Posted on: 8 May 2014
By:

admin
Students from Thomas Fiddler Memorial High School will be performing at the 7th Annual Outside Looking In (OLI) Performance on May 14, 2014 at the Winter Garden Theatre in Toronto.
Fourteen students have been at a Tim Horton's Camp in Toronto since May 6 as they wrap up final rehearsals with other OLI youth and leaders. Since September they have been working hard to learn the choreography and to meet the requirements of going to Toronto which has meant doing well academically, attending school regularly, showing up for dance practices and demonstrating overall good behavior. Over the past 8 months, OLI choreographers have traveled to Sandy Lake every two weeks to rehearse with the students for 2-3 hours a day, three days a week.
This is the second year students from Sandy Lake have performed at the OLI Performance in Toronto. Parent volunteer Joanne Day says seventeen students went last year and that they were the best-behaved group.
This year, parents formed a group called Parents Stepping In (PSI) to fundraise so they could travel to Toronto to watch their kids' performance. The fundraising efforts were so successful that on May 13, fifteen parents will be on their way to Toronto to show their support. Joanne says seeing how happy the kids are when they perform is what motivates the parents to fundraise and support the program.
OLI is a high school accredited program which means the students will earn a high school credit through this program.
To get tickets to this event,
click here.
For more information about OLI, visit their website at www.olishow.com.
Watch the students' final dance rehearsal in Sandy Lake before going to Toronto.
Watch footage of the Sandy Lake group's video introduction and performance at last year's OLI Performance in Toronto.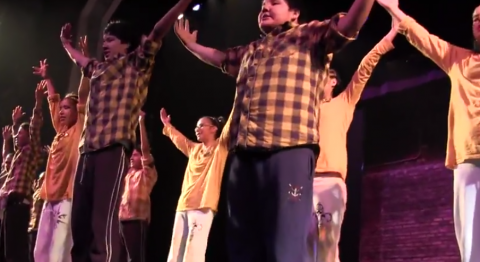 Students' performance at last year's OLI Performance in Toronto.